Ook in het Nederlands
Tinamou Cottage
Deluxe Jungle lodge
*****
Boquete, Panama

More than a hotel or B&B,
Tinamou Cottage is an adventure in the Jungle ! !

Private porch/observation deck of the Great Tinamou Cottage.
A nature and birding paradise !
Specially bird watchers and the nature lovers are invited to stay.

Tinamou cottage is a boutique jungle lodge
Top rated and among the best Boquete has to offer!

These Deluxe Cottages offers you an unique experience of a genuine stay in the Jungle !
You will stay on Finca Habbus de Kwie an 22 Acre private forest reserve.
Located close to Boquete with all it's services and restaurants.
(+/- 5 minutes By car/taxi or if you wish 45 minutes beautiful walk)





You have a choice out of three beautiful deluxe Jungle cottages.

The Little Tinamou
Situated between the shade grown Arabica Coffee and banana trees.
This romantic cottage has a cosy sitting area, kitchenette, bath room.
from your porch you have a view in to the forest and a small stream passing through the jungle.
The perfect place for you morning coffee with your complementary breakfast basket.
The Little Tinamou sleeps 2 (3) persons. read more ?

The Great and Highland Tinamou cottages
Absolutely unique, expect not just a hotel room or a suite..
You will be amazed about the generous and cozy living space these
luxurious cottages offer.
Both are secluded and very privately situated in the jungle on the estate.
In these cottages you will find a cozy living room with colonial style furniture and kitchen.
From your living room you can walk through big sliding doors on to a beautiful
covered spacious private terrace / observation deck with a view all the way to the ocean.
In the romantic master bedroom, you will find a beautiful King size canopy bed and
more colonial style furniture.
Imagine this all in the jungle of the cool Boquete Mountains.

The perfect hideaway for two...

However..If you like to share this unique nature experience with friends or family?
No problem, if you wish we can make the second bedroom available !
And a fifth person can sleep comfortably on the sofa bed in the living room.
Read more about the Highland or Great Tinamou Cottage

The Great & Highland Tinamou sleep 2 to 4 (5) persons and if you wish suitable for a longer stay.






wild life & bird watching
Everything on the property is situated and planted with nature in mind and with a minimum of landscaping, nature is in charge, even our Coffee grows wild !
If you plan a stay at Tinamou Cottage, make sure you allow some time to explore the estate and it's well marked private trail system.
The trails lead you through the Jungle along little streams with nice water falls.

During the green season, we have a lot of tropical fruit ripening in the jungle around the cottages.
Specially in this time you will have a good change of seeing white face Capuchin monkeys and night animals like the Kinkajou and the Olingo's.
Click here to see photo's of the Habbus de Kwie estate





Bird watchers..?
The Bird watchers dream, waking up with an orchestra of singing birds.
Bird watching from the Breakfast table on your own private porch !
and spotting the birds right in front of you in the jungle canopy !
Up to now we did count over 200 bird species only !! on the Habbus de Kwie plantation !
The province of Chiriqui has over to 550 bird species (Panama 1002.!)
Click here to see the Finca Habbus de Kwie bird list

The hiking trails and estate are free accessible but only for our guests !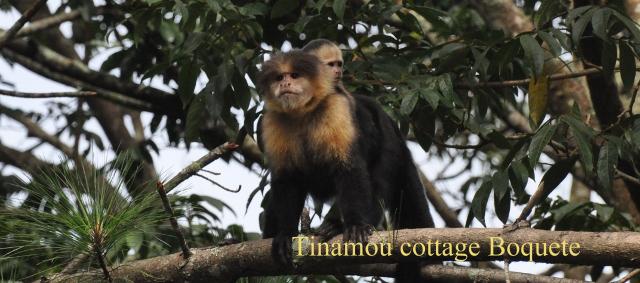 Location
Tinamou Cottage is located in the beautiful forest of Jaramillo Abajo just out of town.
By car only +/- 5 min from a bakery, supermarket and some restaurants
on the south site of the center.

You can now reach Tinamou Cottage by normal car over a new asphalt road !

Click here to see maps and info for visiting Tinamou Cottage by car or using taxis.


Click here to check Internet rates and last-minute

availability or to make a reservation.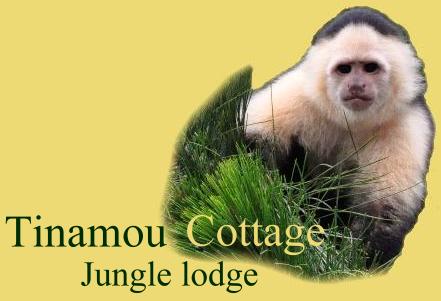 Always close to Nature.
Boquete Panama
---
Book with confidence
Tinamou Cottage Jungle lodge
and
Coffee Adventures Tours
are an officially licensed business
under Panama law..
Recognizes and checked
by ATP
(Autoridad de Turismo de Panamá.
last inspection July 2017)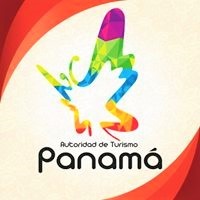 ---
Rates and Reservations
last-minute rates
Our Location in Boquete.
About your host and Tinamou
Coffee Adventures tours
Photo's and info
Highland Tinamou Cottage
Great Tinamou Cottage
Little Tinamou Cottage
Nature photo's
Tinamou Cottage and the estate
For the bird watchers
Bird list Tinamou Cottage
---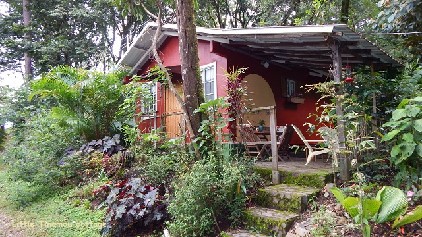 Little Tinamou Cottage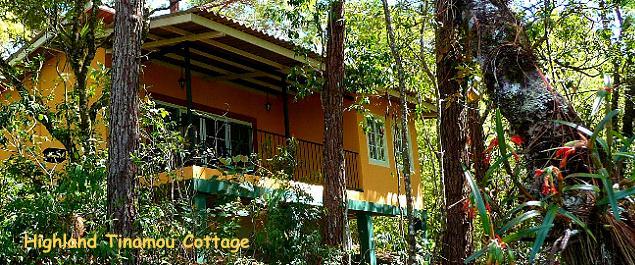 Highland Tinamou Cottage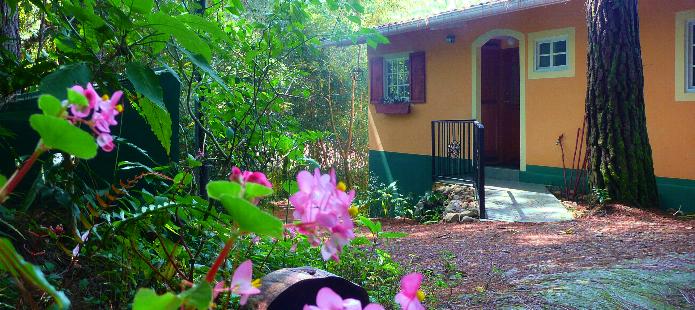 Great Tinamou Cottage
---
Adventure
is not for every one.

Despite of the fact that Tinamou Cottage is an eco lodge and situated close to Boquete and your cottage has all luxury of a modern home / hotel.
We like you to realize your cottage is situated in the jungle.

For us this is a wonderful part of normal live and a daily adventure with the wildlife and the sounds they make in the silence of the night.

But if you like to keep adventure and nature on a save distance, you may like to reconsider staying at Tinamou cottage.

If you are a nature lover, a stay at Tinamou cottage will be a feast and you are invited.

At Tinamou Cottage you will find a service and adventure in pure nature
that none of the Boquete hotels, B&B can offer !


---

The perfect base

Tinamou Cottage is the perfect base if you like to explore the Chiriqui Province.
As a hotel or Inn it offers you the space and privacy of a home.

Boquete is in the center of the province and all points of interest are good accessible.

On the end of your trip you come back from the tropical temperatures in to the cool highland jungle of finca Habbus de Kwie.


---

Great value !

A stay at Tinamou Cottage is great value.

Like all good specialty hotels / B&B,
we offer our guest lots of extras.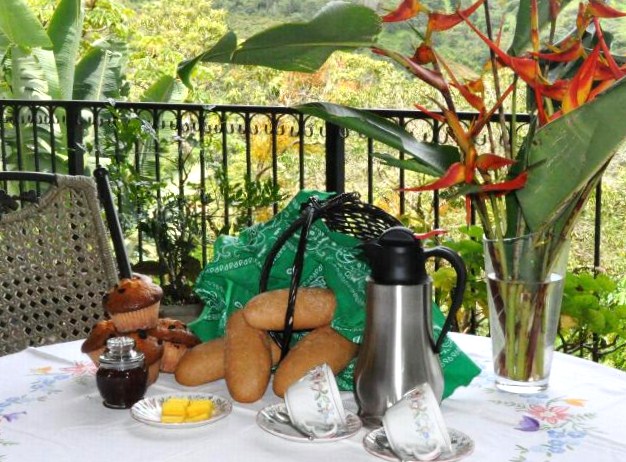 Every Morning the breakfast basket !

In the Jungle and +/-5 min. from town!

Real privacy !

private terrace with a jungle view

Hotel service and the comfort of a home!

Every day a supply of fresh roasted coffee !

A extensive marked jungle trail system !

Free WiFi in every Cottage !

Transfer from Boquete center on arrival.

All ad no extra charge!


---
Contact Info
Hotel / jungle lodge
Tinamou cottage
Hans & Terry van der Vooren
Tel (507 Panama) 720 3852
Cell (507 Panama) 6634 4698
E-Mail Info@coffeeadventures.net





Finca Habbus de Kwie
Boquete Chiriqui Rep. de Panama

---

---